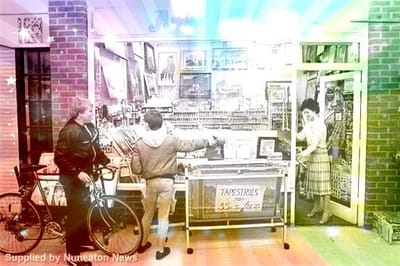 ABBEYCRAFT ARTWORLD
EST1985
THE BUSINESS WAS BORN IN A SMALL UNIT IN THE BEDE ARCADE, BEDWORTH SELLING ART MATERIALS AND PICTURE FRAMING.
RUTH FLANAGAN, WITH TWO SMALL CHILDREN AND HER HUSBAND WHO AT THAT TIME WORKED ANOTHER JOB BY DAY & MADE CUSTOME FRAMES BY NIGHT FOR RUTH.
DESPITE INEXPERIANCE AND SETBACKS THEY WORKED HARD TO MAKE THE BUSINESS THE SUCCESS IT IS TODAY.
PHOTO SUPPLIED BY NUNEATON MEMORIES
I HAD WORKED MANY A YEAR WITH RUTH AND GAINED A WEALTH OF KNOWLEDGE & EXPERIANCE OF THE BUSINESS .
UPON RUTHS RETIREMENT IN 2012 THE OPPORTUNITY AROSE TO PURCHASE ABBEYCRAFT ARTWORLD ALLOWING US TO CONTINUE SERVING OUR NEW, OLD & LOYAL CUSTOMERS. ALLOWING US TO CONTINUE TOBUILD ON THE GREAT FOUNDATION OF COMMUNITY SPIRIT AND THE PASSION THAT WE HOLD FOR ARTS AND CRAFTS WAS BORN .
AND SO OUR JOURNEY BEGINS,
MY NAME IS SAMANTHA AND I AM PASSIONATE ABOUT MY WORK AND MY ROLE AT ABBEYCRAFT ARTWORLD, NOT ONLY AS THE MANAGER, BUT AS SOMEONE THAT IS ENTHUSIASTIC TO HELP AND GUIDE OUR CUSTOMERS THROUGH ALL THE VARIOUS ARTS AND CRAFT MEDIUMS THAT WE HOLD.
THE TEAM IS MADE UP OF MYSELF, KARA, DONNA AND LORRAINE, WHO EACH CAN OFFER EXCELLANT GUIDANCE AND ADVICE TO ALL OF OUR CUSTOMERS NEEDS.
WE OFFER A LOYALTY CARD TO OUR CUSTOMERS TO SHOW YOU OUR APPRECIATION,
AS A SMALL INDEPENDANT BUSINESS WITH A BIG HEART WE ARE AT TIMES LIMITED TO STOCK AVALABILITY, WE ARE MORE THAN HAPPY TO SOURCE AND ACCOMODATE OUR CUSTOMERS REQUESTS WHERE POSSIBLE.